Edwoak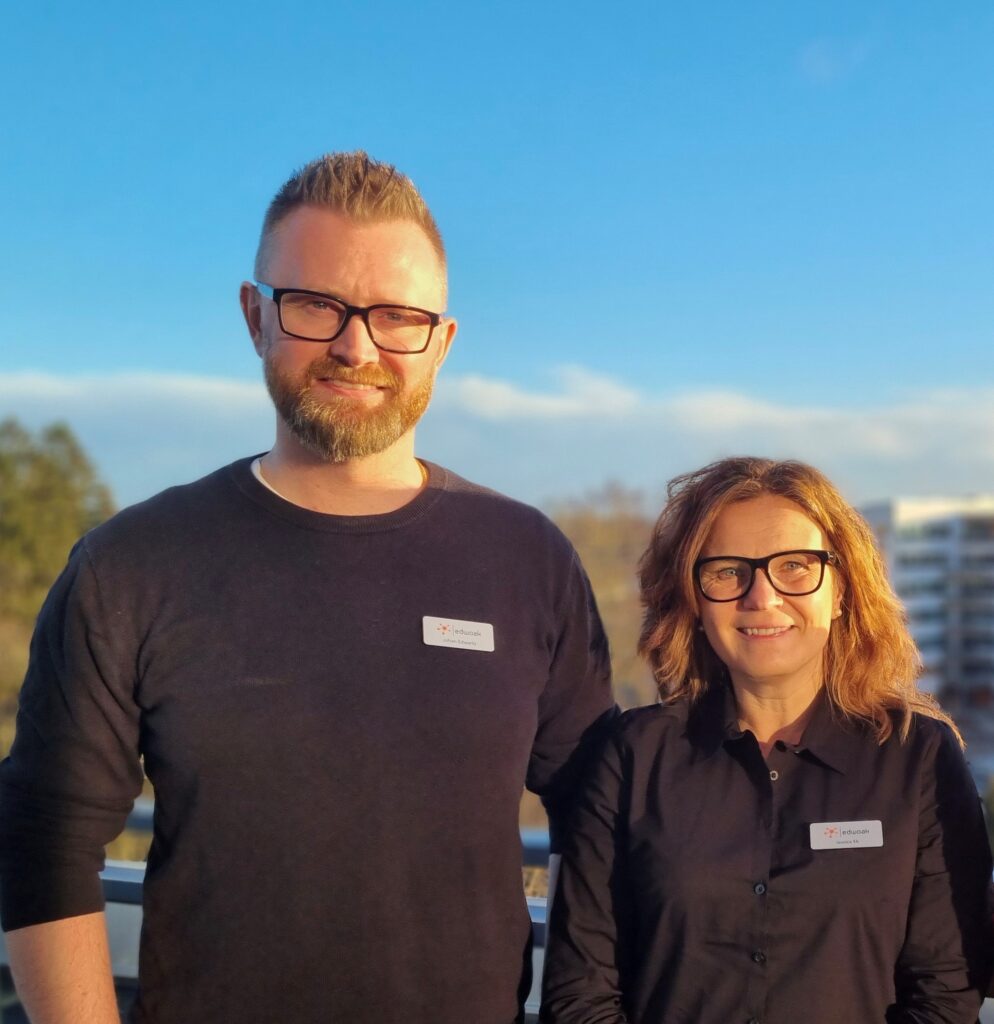 Johan Edwartz and Jessica Ek, founders of Edwoak
Edwoak is an innovative player in technology, design and consulting.
We help our customers to develop in sustainability and digitalization.
We are dedicated experts in the divisions of Health and Care - Industrial Development - Digitalization - Buildings - Web Education - Web Design, working to create sustainable solutions for future generations.
Edwoak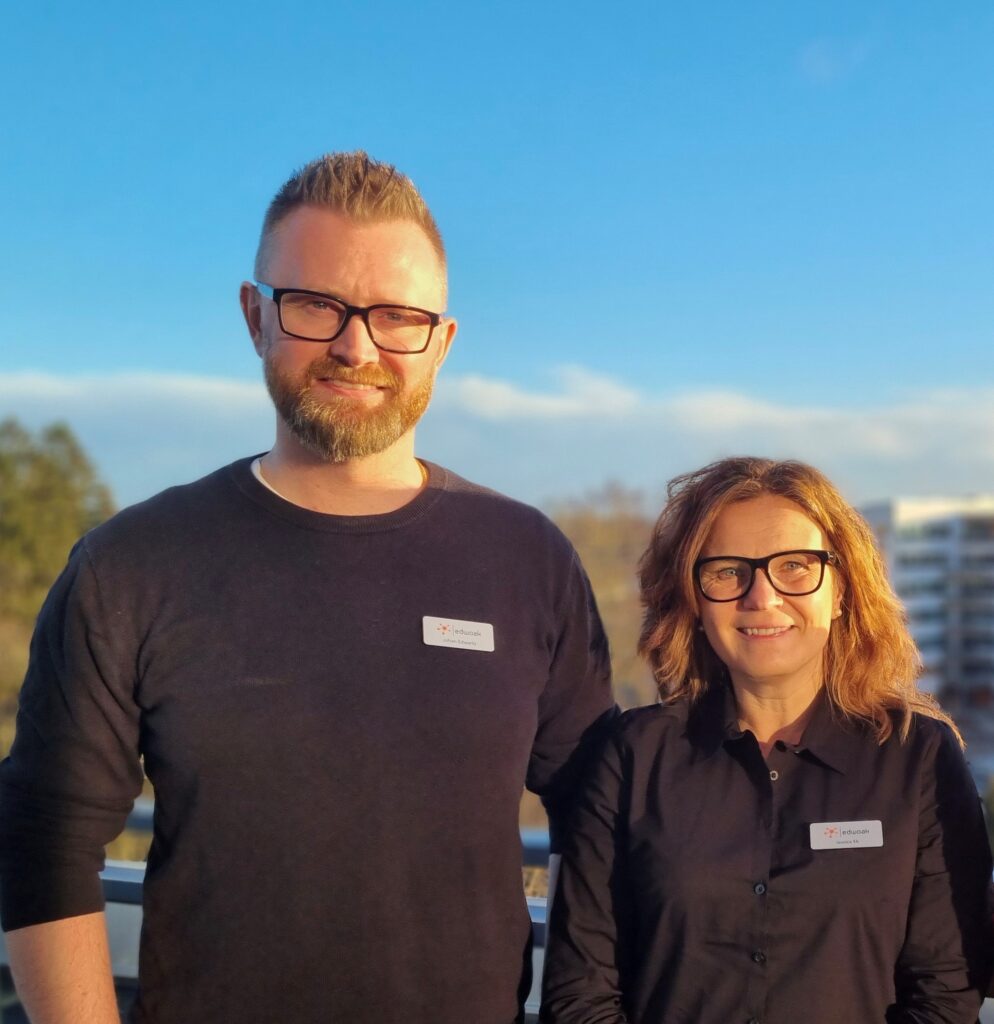 Johan Edwartz and Jessica Ek, founders of Edwoak
Edwoak is an innovative technology, design and consultancy company.
We help our customers to develop in sustainability and digitalization.
We are 2 dedicated experts in the divisions Health, Health Care - Industrial Development - Digitalization - Buildings - Web Training - Web Design, working to create sustainable solutions for future generations.
The small company that wants to make a big difference!
Edwoak has 2 separate businesses. A consultancy firm focusing on health, care and welfare, but also on industry and buildings. The second part focuses on contributing to the digital development in the areas of health, care and care.
We at Edwoak are experts in different areas but we share the same vision - to use digitalization to automate and streamline our respective areas.
For us, it is important to make a real difference and that efficiency improvements create real change in businesses and people's lives.
Edwoak's vision is to create a healthier and more sustainable society through innovation, consulting and digitalization!
Core values
Courageous
We think bigger and we challenge each other, make bold decisions and always stand up for what we believe in.
Devotees
We have a unique mix of skills and are all passionate about our fields. We share our expertise and knowledge to make a difference and are driven by our curiosity to grow and learn more.
Team player
We share ideas and collaborate across borders to take advantage of new opportunities. We believe that diversity is strength, and we challenge, support and bring out the best in each other.
Edwoak's six divisions - Health, Healthcare, Industrial Development, Digitalization, Buildings, Web Training, Web Design - offer engineering, design and consulting services in two main sectors: public and private.
Growth targets
Consulting activities
10% organic growth
Digital development activities
With our scalable digital platform for cohesive planning (tm8s) aimed at health, care and welfare, we aim to reach the market in 2022 and carry out our first investment round.
Sustainability goals
The sustainability goals are a fundamental part of the company's strategy. Developing sustainable solutions, conducting responsible business and being an attractive employer drive the business forward - it is about social, environmental and economic sustainability.
In 2022, sustainability targets were set and are presented here.
Ensuring employees' health at work and work-life balance.
Create the conditions for courageous leadership.
Increase employee engagement.
Increase customer satisfaction.
Ensuring ethical operations.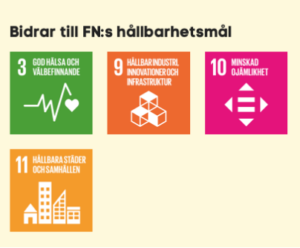 Jessica Ek
Jessica is a social psychologist with a holistic approach, which is a cornerstone of person-centered work.
With her own experience of several years in collaborative work with a focus on the individual, Jessica has very good knowledge of what hinders, what enables and what needs to be done for today's collaboration to reach a new level.
During her career, Jessica has worked with people in various forms. Children and youth homes (HVB homes), youth accommodation, resource schools, school counselor and administrative child and youth coordinator are some of the activities and roles that Jessica has had. For 8 years, she has also assessed and decided on sickness benefit and sickness compensation at the Swedish Social Insurance Agency.
She has also worked as Development Manager for Children and Young People at Skaraborg Municipal Association and for three years as project manager in Västra Götaland's county-wide initiative to strengthen the work with coordinated individual plans.
For example, Jessica has very good knowledge of "Good and close care - a reform for sustainable health care" and Inera's feasibility study on "Cohesive planning on 1177 Vårdguiden". Nationally, Jessica has on several occasions been able to tell about the work she has done in Västra Götaland at various webinars under the auspices of SKR and has also been hired as an inspirational speaker by several regions that want to develop their work with collaboration and coordinated individual plan.
In 2020, she was involved as a Special Matter Expert (SME) in the design of the new medical record system Millennium in Västra Götaland, where she had an important role in the work with Option 1 - the collaboration work. This, in combination with having previously worked hands-on with several target groups and having experience from multiple individual meetings both as a school counselor, child and youth coordinator and administrator at the Swedish Social Insurance Agency, Jessica has broad knowledge and deep insight into person-centered, needs-adapted and cohesive planning and how the development and design of such a digital platform should proceed.
Collaboration and innovative digitalization is something Jessica is passionate about and sees as the solution to the challenges of the future. In order to streamline the use of welfare resources, health, healthcare and care need to take place with the right efforts, by the right organization, at the right level at the right time. This is a prerequisite for managing the health, health care and social care of the future, where children and young people need to succeed in school, adults need to have the conditions for increased work participation and the elderly need to be able to age in good health.
"If we are to meet the extensive challenges facing Swedish health care, many people need to work together, and good ideas need to be realized. Especially in the industry, there is knowledge and expertise, which, if properly channeled, could contribute more than today to the development of health care," says Anna Nergårdh in a press release via Rud Petersen PR agency."
This is something that we at Edwoak have long recognized.
Johan Edwartz
Through Johan's previous role as a project manager for innovation, development and improvement projects in both industry and the construction industry, Edwoak has acquired a broad knowledge and deep insight into how to contribute to the development and streamlining of both industry and healthcare through digitization. Johan has very good knowledge of efficiency models such as PDCA, Lean, Six Sigma and Kaizen, which can easily be digitized for industry and channeled into health, care and welfare.
During his long time in the automotive industry and the construction industry, Johan has created several follow-up and efficiency tools, which have been appreciated and used frequently. Taking advantage of the industry's "preliminary work" with e.g. information management means that Johan easily has an eye for what can be streamlined in health care and care and how to solve it.
Before working with project management, Johan also accumulated extensive experience in industrial programming such as CNC, robot, vision, measuring machines and PLC. Johan also has very good knowledge of security issues and cloud services. He knows everything about FHiR and Azure and about Microsoft Power apps if desired.
Johan has had requirements and management responsibility for CAD - BIM information regarding large property portfolios in the public sector for several years.
Johan is passionate about innovation, digitalization and efficiency.